Project Write is going slowly.  And that's putting it nicely.  There hasn't been a whole lot of writing yet.  But there has been some reading of books on writing including one called The Art of Subtext by Charles Baxter.  I love me some good subtext, I really do.  Today's chapter was titled "Creating A Scene".  And, living up to the theme of the book, Mr. Baxter means that in more than one way, of course.  Because to write a good "scene" in a story or novel, one needs to have characters capable of creating a scene.
Fiction, a dramatic medium, asks writers to unlearn the habits of conflict-avoidance for the sake of revelation.

People who have practiced good manners and conflict-avoidance all their lives have to remember to leave those habits of mind at the door when they enter the theater of fiction.  Stories thrive on bad behavior, bad manners, confrontations, and unpalatable characters who by wish or compulsion make their desires visible by creating scenes.
Well crap.  That sure explains a lot.  I have literally spent the last twenty-five years striving to be a woman who can Keep Everything Calm and Everybody Happy!!  I have failed miserably, but not for lack of trying.  I am all about scoring approval points from people I do not know and who I will never see again.  Also, I am extremely uncomfortable with non–positive feelings and attitudes as well as all things Awkward.  (I literally can not watch The Office for more than one minute.  The Awkward makes me soooo uncomfortable!)  If a friend or a family member shares a problem or a concern with me, I make it my personal responsibility to solve it as soon as possible.  I do this because I care, but also because I can't stand for there to be any unhappiness in the world.  Which, on its very face, is completely ridiculous.  There is so very much unhappiness in the world at any given moment.  "In this world you will have trouble" Jesus said.  Not "you might" – but "you WILL" – it's a given.  He also said, "Sufficient for the day is its own trouble" – making the very clear implication that we are going to have trouble pretty much every day.  And yet here I am, getting all bunched up because people I care about have troubles!
So is it any wonder then that I have a terrible habit of writing awful bland characters who either have no problems or only have problems because of outside forces?  And I literally can't even think of a compelling start to a story because that would mean introducing trouble into my imaginary universe?  GOOD GRIEF.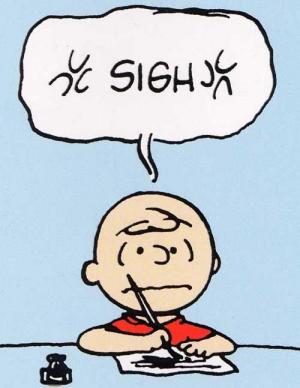 Well, unlike most of the problems I struggle with, this one is NOT unsolvable!  (For some reason, that sentence was followed by near-maniacal level laughter in my head.  Let's not spend too much time analyzing that.)  I am surrounded by drama.  I myself can be quite the drama queen, at times.  Creating imaginary drama for imaginary people should not be out of the realm of my abilities.  I can do this.  I can let go of my need to control, fix and solve.  I can let happy people be unhappy.  I can even CAUSE some unhappiness. (fictionally!!  of course!)  (Why did I feel the need to clarify that?!)  I can let my characters be Awkward and Uncomfortable and sloppy and sad and hurt and maybe even mean.  And maybe we'll all be better off for it.  ("We" being me and my characters.  I can't speak for the rest of you, though a girl can dream…)